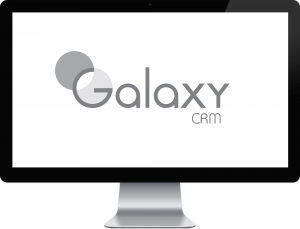 Galaxy CRM is a modern and flexible information system designed to organize, automate and optimize the relationships between each company and its customers. 
Designed and developed by Epsilon SingularLogic in the latest technology, it is the guarantee that will lead the company that chooses it in the future.
With Galaxy CRM, companies will be able to improve the effectiveness and productivity of their executives while upgrading their customers' experience in a targeted way.
Contact management
Resource management
Sales activities
Merchandising
Questionnaires
Sales opportunities
Visit Plan with optimal routing
Loyalty
Marketing plan monitoring
Event management
Mass mail campaigns – Interface with Mailchimp/SurveyMonkey
Messaging campaigns – Interface with SMS/Viber/SendGrid
Telemarketing actions
Expenses
Interface with Outlook 365
Help Desk
Workflows
Approval flows
Competition monitoring
Project Management
Timesheet
Maintenance work
Dashboards – M.I.S
Galaxy CRM orchestrates, monitors, and manages all sales processes, from budgeting, scheduling visits and identifying sales opportunities to completing a sale and collecting payment. Utilizes available data for targeted actions, quick and informed decisions, thus enhancing sales potential. 
Galaxy CRM organizes and automates companies' internal business processes, thus significantly reducing the management time and cost. At the same time, it ensures quality and monitors all the critical businesses processes. Transparent corporate processes facilitate cooperation between executives and, consequently, improve their overall productivity. 
Tools that empower the dynamics of the sales team by giving access to all the information they need in the field, allowing them to complete their work as if they were in the office's physical space. In addition, they contribute to more efficient sales, faster customer service, and provide real-time information contributing to overall efficiency. 
Provides modern segmentation tools and RFM analytics that help execute targeted multi-channel communications, promotions, and events with the business audience. The software provides comprehensive marketing plans management, covering all the required steps, from planning actions and their budget to analyzing their effectiveness for continuous optimization. In addition, it provides interfaces with MailChimp, Viber, SendGrid, SMS platforms, and outlook for the organization and execution of marketing campaigns through CRM.
A flexible system for successful loyalty programs. Galaxy CRM effectively manages memberships, multiple loyalty levels, and dynamic reward scenarios, interfaces with POS, and monitors the performance of the company's loyalty programs. Offers personalized marketing activities, in combination with a loyalty portal and a loyalty app, empowering the relationship between the company and its customers. 
Galaxy CRM provides the customer care department with all the necessary information to allow agents to respond to customers' requests and complaints with precision and effectiveness, following automated processes. It ensures a high level of customer service from the very first contact. 
Cutting-edge technology that takes advantage of the latest international trends and the most advanced application development tools. Provides both the business and users unlimited customization and personalization options, complete access from everywhere, automation & asynchronous execution of tasks, overall control, clear view of the business, easy upgrading, and the ability to add new functions and procedures according to their existing needs. In addition, it offers an exceptional user experience in a modern user interface and unique business benefits, becoming a tool for increasing productivity and business development. 
Monitors the sales cycle, from the expression of interest, the registration of potential customers, the follow-up to the automatic creation of an offer. It offers the ability to monitor the competition, the design and monitoring of multiple budget sales, and the receipt of detailed reports to monitor the pipeline. 
Galaxy CRM offers extensive and usable information for every activity of the company, enabling quick and targeted decision-making, and Target Market selection, for promotional actions, to strengthen Loyalty or to minimize the impairment of the clientele, through: 
Segmentation

 

RFM Analysis

 

ABC Modeling

 

GEOanalytics

 

B.I.

 
Galaxy CRM manages and monitors the company's customer service and care life cycle. The automated processes and workflows ensure that customers will enjoy the best possible service from the moment their request is submitted to its assignment, the allocation of the required resources and parts, and its resolution and invoicing. In addition, the software manages the service-level agreements (SLAs) and automatically calculates their renewal and pricing. 
Comprehensive Applications Ecosystem
The Galaxy technology platform offers an integrated infrastructure and an interface for the company's needs without requiring "bridging" for 3rd party tools or customized development. 
In this way, all the company's, or group's operations, are performed and monitored in a single environment, such as trade activities (wholesale/retail sales, purchases), financials, production, marketing, and human resources management etc. At the same time, Galaxy ensures the continuous development of the software itself, and compliance with existing legislation and directives, while it never loses focus of its original promise: To protect your initial investment. 
Galaxy offers, through Internet, access to corporate information from everywhere, using smartphones, tablets, laptops, or desktop computers. Without the need for any additional software, it offers, through reports, maps, and charts, any information is necessary (e.g., customer credit line, overdue securities, sales data, etc.) for making intelligent business decisions. Another essential feature of this solution is that it enables companies to format and present their information based on their needs. Additionally, it supports the execution of transactions remotely, import contacts, and departments organization by automating processes, such as the transactions of your sales force or engineers. 
Galaxy can be fully customized to every business process, need and habit. Therefore, it offers true flexibility, as it allows designing a different environment for each user (screens, lists, printouts, menus), adding new features, and creating new processes (such as approval workflows, reminders, automatically generated actions, and others). In addition, it offers the ability to change the "shape" of the application (entities) by adding extra tables and fields and intervening in the actions of the application itself (record registration, balance check). 
This module applies to companies that manage large numbers of tenders/offers to clients or companies that participate in public or private tenders for projects. It manages the process relates to competitions, notices of intention, and offers. 
Innovative e-invoicing solution