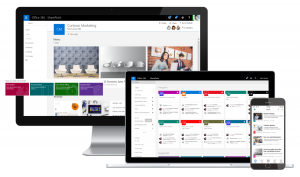 The intelligent platform for content and collaboration management
Share and manage content, knowledge and applications! Empower teamwork! Microsoft SharePoint enables your people to easily access all of your organization's information and data, which remain usually unknown as they are unstructured, stored in different locations, systems and devices. In addition, Microsoft SharePoint incorporates a set of tools tools allowing your people to create sites, to share documents and information with colleagues, partners and customers, anytime, at the right time. Empower individuals, teams and organizations to discover, share, and collaborate on content from anywhere and on any device. Available either in the Microsoft cloud or on your servers.
A Customer Relationships Management application that adapts to the needs and the size of each business.
A 360˚ software solution for the electricity and gas industry based on Dynamics 365.
A suite of business analytics tools that deliver insights throughout your organization.
Innovative e-invoicing solution