Epsilon Net Group received one more important distinction for its successful course in 2021. After a vote conducted with the participation of HRIMA magazine readers and the visitors of the financial-business portal www.banks.com.gr, the Group came first in preferences and received the 1st place in the category "Business Innovation" of the "HRIMA Business Awards 2021", which aim to highlight companies that support the Greek economy and actively contribute to the development of the stock market in Greece.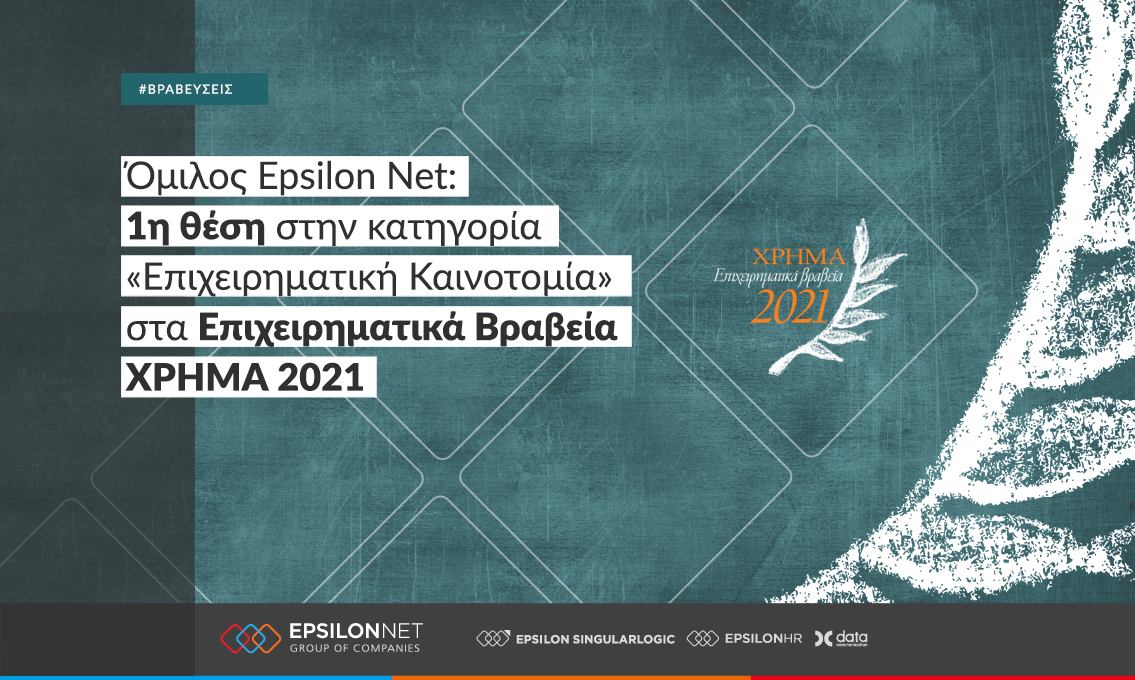 The HRIMA Business Awards are recognized by the business and investment community as one of the most prestigious institutions for the annual evaluation of listed companies on the Athens Stock Exchange. Criteria for evaluating companies are their growth, investments, innovative actions, international orientation, positive results and their attitude towards the stock market and the investing public.
The prestigious event was addressed by important personalities of the Greek Economy, such as Mr. Christos Staikouras, Minister of Finance, Ms. Vasiliki Lazarakou, Chairman of the Hellenic Capital Market Commission, Ms. Hariklia Apalagaki, Secretary General of the Hellenic Banking Association, Mr. Chris Aesopos, Chairman of the Hellenic Fund and Asset Management Association, Mr. Spiridon Kiritsis Chairman of the Association of Members of the Athens Exchanges and Mr. Alexandros Hatzopoulos, General Manager of the Hellenic Federation of Enterprises. The journalist, Mr. Christos Konstas was the coordinator of the event.
In the online ceremony that took place on Friday, February 11, 2022,  Mr. Petros Koralis, Sales Director of the Group received the prestigious award on behalf of Epsilon Net and stated the following: "It is a special honor for us to be awarded the 1st place in the category for Business Innovation. 2021 was a milestone year for our Group. Actively contributing to the Digital Transformation of Greek companies, our information systems support the daily operation of more than 100,000 large, medium and small enterprises and freelancers. The high technology of PYLON & Galaxy information systems for large, medium and small/medium enterprises and products for Electronic Invoicing of the SMART series for small enterprises & freelancers offer a high level of daily usability and interoperability with the myDATA platform of IAPR and third party systems. Epsilon Net group in 2021 grew significantly, both organically and with targeted acquisitions. Implementing our investment planning in 2021, we proceeded with the acquisition of Singular Logic in a joint scheme with SPACE HELLAS , the establishment of Epsilon SingularLogic and the integration of the companies Technolife, iQom, PCS and CSA. With 15 subsidiaries, more than 40 main products, nationwide network of 500 partners and above all, with 1,000 highly qualified executives and employees we will continue to offer in 2022 innovative high technology products and value-added solutions as the catalyst in the Digital Transformation of Greek Companies»