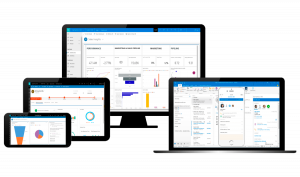 Dynamics 365 for Sales (CRM)
Manage your Customer Relations with a smart solution that turns relationships into revenue
Understand better your customer needs, engage more effectively and win more deals. Dynamics 365 for Sales (CRM) is a flexible sales solution bringing digital intelligence into every deal. It empowers your sellers with unified solutions and data, enables smarter selling with contextual AI and boosts sales productivity through the automation of routine tasks. Innovate now with a New Generation sales app that help your sales team to nurture demand, personalize experiences and build relationships at scale.
A 360˚ software solution for the electricity and gas industry based on Dynamics 365.
A suite of business analytics tools that deliver insights throughout your organization.
See how our customer succeeded with Dynamics 365 for Sales