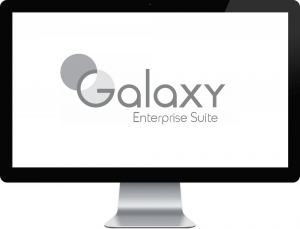 Comprehensive ERP platform that supports the growth of medium & large companies, regardless of their activity, offering limitless insights.
Galaxy Enterprise Suite is a comprehensive ERP platform that supports the growth of medium & large companies, regardless of their industry, with complex and multiple needs requiring extended functionalities, automation, and limitless insights.
Thousands of businesses have adopted Galaxy Enterprise Suite ERP, enjoyed rich functionality, flexibility, scalability, security and unlimited insights while ensuring high returns and cost management.
Designed and developed on SingularLogic's Galaxy platform, Galaxy Enterprise Suite ERP secures the business continuity.
Commercial Management
Financial Management
Accounting Management
Asset Management
Financial Data
Budgeting
Sales/Purchase Commercial Policies
Import Folder
Batches
Serial Numbers
Color-Size
Delivery Control
Stock Replenishment
RF Inventory Management
Payment Plans / bulk payment management
Factoring
ABC Analysis
Supply Processes & Approvals
Sets
Secure web banking
Production Management
Production Planning
Project Management
Service
Business Intelligence
Dashboards
M.I.S.
CRM
Payroll
Hotel Management
Restaurant/Cafe Management
Retail Management
Comprehensive Application Ecosystem
The Galaxy technology platform offers an integrated infrastructure and an interface for the company's needs without requiring "bridging" for 3rd party tools or customized development.
In this way, all the company's, or group's operations, are performed and monitored in a single environment, such as trade activities (wholesale/retail sales, purchases), financials, production, marketing, and human resources management etc. At the same time, Galaxy ensures the continuous development of the software itself, and compliance with existing legislation and directives, while it never loses focus of its original promise: To protect your initial investment.
Galaxy offers, through Internet, access to corporate information from everywhere, using smartphones, tablets, laptops, or desktop computers. Without the need for any additional software, it offers, through reports, maps, and charts, any information is necessary (e.g., customer credit line, overdue securities, sales data, etc.) for making intelligent business decisions. Another essential feature of this solution is that it enables companies to format and present their information based on their needs. Additionally, it supports the execution of transactions remotely, import contacts, and departments organization by automating processes, such as the transactions of your sales force or engineers.
Tools that empower the dynamics of the sales team by giving access to all the information they need in the field, allowing them to complete their work as if they were in the office's physical space. In addition, they contribute to more efficient sales, faster customer service, and provide real-time information contributing to overall efficiency.
Enterprise Suite ERP can manage multiple companies using the same database, thus offering quick processing and data volume efficiency, and enabling you to enter and find information for any single company. It also supports the creation of a company group, with an option for automated inter-company transaction generation. Finally, Enterprise Suite ERP offers insights and credit control on a company group level.
The interface of the Galaxy technology applications is multilingual, enabling you to choose the language you want to use. Galaxy applications are designed in English and then localized into other languages, such as Greek, Bulgarian, and Romanian. At the same time, you can save application data in multiple languages to issue your invoices in the language your customers speak. With Enterprise Suite ERP, language is no longer an issue for your branches abroad or your foreign employees.
Galaxy can be fully customized to every business process, need and habit. Therefore, it offers true flexibility, as it allows designing a different environment for each user (screens, lists, printouts, menus), adding new features, and creating new processes (such as approval workflows, reminders, automatically generated actions, and others). In addition, it offers the ability to change the "shape" of the application (entities) by adding extra tables and fields and intervening in the actions of the application itself (record registration, balance check).
Galaxy is completely harmonized with the new Digital Accounting and Tax Application platform called myDATA, and supports the online communication, for sending the company's transactions to A.A.D.E. and receiving from A.A.D.E. all transactions posted on its behalf, performing multiple checks, and allowing modifications or new entries. The service is available either through a direct connection with the myDATA platform or through the e-books service.
Online invoicing service, through the certified Epsilon Digital provider, that easily covers every business's requirement, regardless of size, industry, and activity, for electronic sending, authentication, acceptance, and archiving of invoices and documents through automated procedures (harmonized with the law). The adoption of electronic invoicing ensures the Online connection with the A.A.D.E., reduces the operating costs, the documents archiving costs, saves valuable time, and increases productivity.
Cutting-edge technology that takes advantage of the latest international trends and the most advanced application development tools. Provides both the business and users unlimited customization and personalization options, complete access from everywhere, automation & asynchronous execution of tasks, overall control, clear view of the business, easy upgrading, and the ability to add new functions and procedures according to their existing needs. In addition, it offers an exceptional user experience in a modern user interface and unique business benefits, becoming a tool for increasing productivity and business development.
All the business's financial data are monitored in parallel, in unlimited tree structures (e.g., holdings, cost centers, business units, and revenue centers). Then, it is displayed – either independently or combined – with the help of practical data capture engines.
By defining the rules governing a business's commercial management (e.g., credit control scenarios, price list per product category, special payment agreement per customer/product category) and giving the relevant order, the application ensures that these rules are massively applied.
The re-ordering process is used to optimize stock since the application can suggest the right quantities based on sales statistics, vendor delivery times, and safety margins in terms of time and quantity. These suggestions are editable and can be directly created and sent the orders to the company's vendors. Thus, the business can have the optimal stock, and at the same time reduce the relevant expenses.
It is possible to define a budget for purchases, sales, expenses for all entities (e.g., items, customers, suppliers, sellers, projects, accounting) while defining seven dimensions and 12 values for any period. At the same time, it is possible to design budget models based on the company's needs and provide a direct monitor of their progress. Moreover, it has mechanisms for easy scenarios creation and the ability to edit from excel.
Galaxy enables companies to make the right business decisions, by providing rich information that helps them prevent possible risks, take advantage of opportunities, and adjust their business activities promptly and accurately. It includes all the required financial and operational reports, as well as additional indexes pertaining to efficiency, development, productivity, quality, cost, and human resources. It also gives them the option to generate new reports by using complex data (visual reporting).
Feature sets provide additional options for grouping items in entities, such as products, customers, vendors, sellers, and agents, so that you can retrieve data with the same or similar features and gain access to more insights, through intuitive search engines. This data can also be managed in third-party systems, such as B2C and mobile apps, enabling easy and practical retrieval of products or other entities.
The application enables designing the layout of the company's warehouse, including shelves, corridors, etc., and displaying the inventory on each shelf. In addition, it supports position changes and all the delivery, picking, and inventory processes using RF terminals. Also, it is possible to manage orders from the commercial management of Galaxy ERP to the warehouse (WMS) and update the commercial management based on the results.
Finally, it supports the verification of the deliveries and dispatches of merchandise with a scanner – wirelessly and affordably, without importing files – thus avoiding errors and optimizing the execution time of order.
Commercial Policy / Price Lists
Apart from defining specific prices, the management of price lists (purchases and sales) can be done by setting a formula that will generate smart price lists based on other price lists or cost values, making price management, and updating both smarter and quicker. At the same time, supports the designing of more complex policies (sales and purchases), using rules that are triggered each time an invoice is issued.
Ensures the Illustration of the company's production process with maximum accuracy and automates operations by using customizable workflows and scenarios. Utilizes state-of-the-art approaches and tools, such as MRP II and Gantt, to change the level of coverage of production requirements, production capacity management, replenishment of raw material stocks, and Shop Floor Control and Visual Scheduling. It is a fully customizable and reliable production costing circuit that covers every possible need to calculate production costs and provides information on every detail, using detailed graphical tools.
Innovative e-invoicing solution